Free Printable Christmas Carols and Songs Lyrics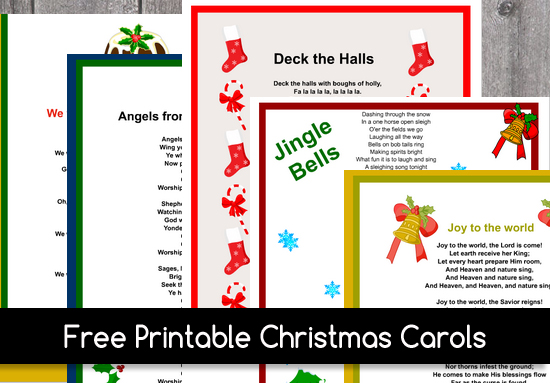 I have made adorable printables for lyrics of some of very popular christmas carols and songs. You can share these cute printables with your family, friends, neighbours or anyone who is interested in caroling. With these carols lyrics anyone can sing along with rest of the carolers. Click on any of the carols image and save the bigger version to your computer and print it right away. You can also make a Carols and Songs book with all these lovely printables and share with others as a Christmas gift.
---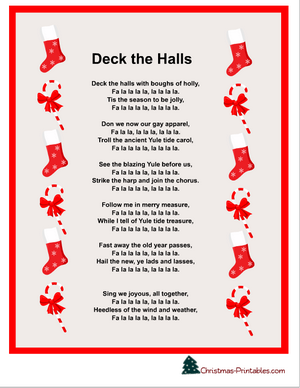 Printable Deck the Halls Carol Lyrics
This is free printable lyrics sheet of one of the very popular Christmas and new year carols 'deck the halls'. The sheet is decorated with beautiful images of Christmas stockings and candycanes.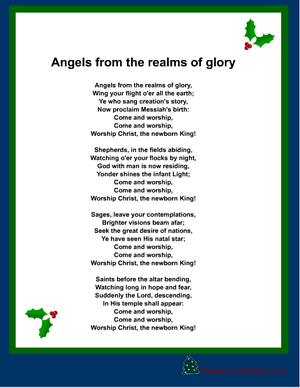 Angels from the Realms of Glory Carol Printable
Click on the image on the left to save the printable version of this very popular Christmas Carol. The design is decorated with mistletoes and a green border.
Angels from the realms of glory
Wing your flight o'er all the earth;
Ye who sang creation's story
Now proclaim Messiah's birth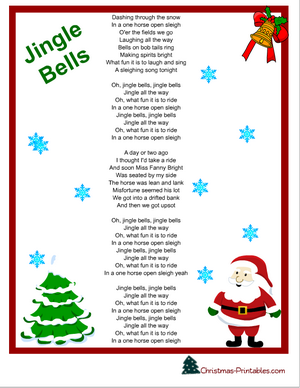 Printable Jingle Bells Lyrics
Here is a free printable of best known and most commonly sung Christmas song in the world and this song was being constantly played in my mind while I was working on the graphics of this website. I have made a lovely printable version for its lyrics decorated with images of Santa, a Christmas tree, lots of snow flakes and yes a Christmas bell.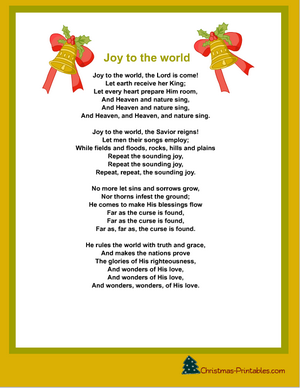 Joy to the World Christmas Carol Lyrics
Click on this beautiful image on the left side to save the bigger printable version to your computer.
Joy to the world! the Lord is come;
Let earth receive her King;
Let every heart prepare him room,
And heaven and nature sing,
And heaven and nature sing,
And heaven, and heaven, and nature sing.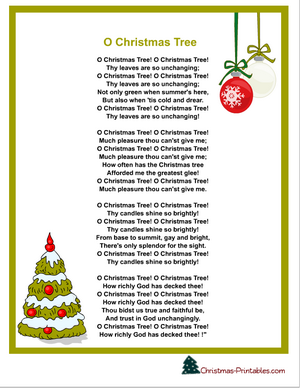 Free Printable Christmas Carol Lyrics Sheet O Christmas Tree
This is free printable lyrics sheet for another one of my most favorite Christmas Carols O Christmas Tree. I have decorated this printable with image of a cute tree and Christmas ornaments design. This cute page will add charm and fun to your carols book.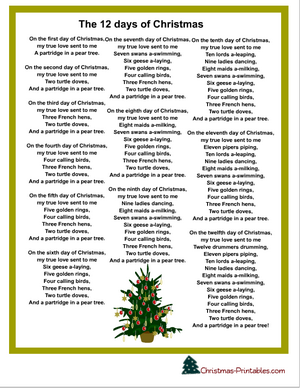 The 12 days of Christmas Printable Lyrics
Sing about the series of increasingly grand gifts given on each of the twelve days of Christmas with the help of this cute and free printable Christmas Carol Lyrics sheet. Simply click on the image on the left and save the bigger image to your computer.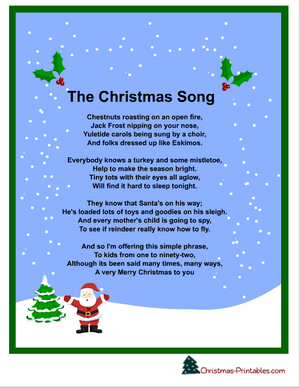 The Christmas Song free printable Sheet
This is a fee printable lyrics sheet for The Christmas song or Chestnuts Roasting on an Open Fire . This beautifully designed Christmas Carol lyrics sheet is decorated with images of a Santa Claus, Christmas tree, lots of snow and mistletoes.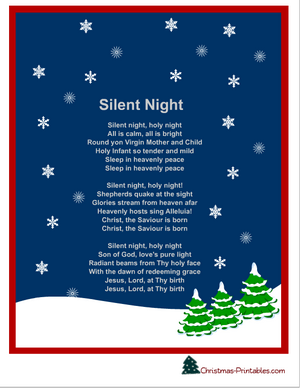 Printable Carol Lyrics 'Silent Night'
Another beautiful carol to sing along and another beautiful printable image to look at. This carol lyrics sheet is decorated with images of trees in snow and lots of snowflakes at night time.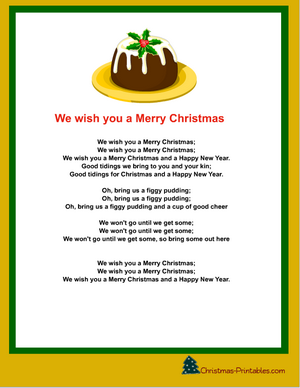 We wish you a Merry Christmas
At the end here is a beautiful free printable and we really wish you a Merry Christmas and a Happy New Year. :)